Ok so first of all I would like to apologize for not posting anything in the past few weeks. This is because it's the exam season and I basically spend most of my days studying for tests.
Now, Lag BaOmer.
Lag BaOmer (Pronounced Lug Buh-om-er) means the 33rd of the
Omer
in Hebrew- Lag (ל"ג) means 33 as every letter in the Hebrew alphabet has a numerical equivalent (This is called
Gematria
). Strangely enough, the origin of this holiday is not known for sure but it is thought that it is the day
Rabbi Akiva
and his 24 thousand student died from a plague (Yay!).
To be honest, I don't care about the source. I care about what you do on Lag BaOmer which is burning shit. And as everybody knows, burning stuff is fun (except if it's your house- that's not fun). Basically everyone makes a bonfire and just have fun untill from like 8 in the evening to 7 in the morning.
Bedtime story: A bunch of dumbass kids who had been throwing firecrackers into the fire all evening decided to throw one at the trees. The trees got really mad (Like for real) and lit themselves on fire in order to punish the kids. This caused the dumbass children to run away in fear. One of the trees was probably magical or something because his fire destroyed him and started burning other trees. As the trees were burning there was like a column of ash which later spread around the air and got into my hair.
Eventually the magical fire got boring and we called the firefighters who afterwards fought the magical angry tree fire.
What a happy ending. After that, I wanted to find the dumbass kids so I could teach them a lesson by lighting their nuts on fire but as I said before, the trees scared them away.
Here is a series of pictures for your enjoyment:
Sexy Flames.


More Flames.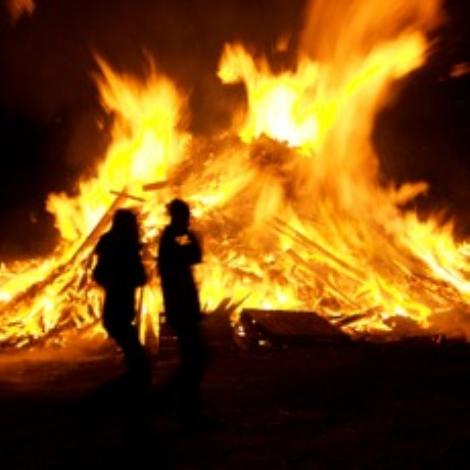 These people were later found dead.
That's it for now.
As I'm running out of blog ideas so tell me whatever you're interested in.
Take care.